---
Unify your communication channels under one brand identity!
The evolution of the marketing mechanism is more and more sensitive, and it's not always easy for non-marketers to propose strong content in an accurate structure, design  it and follow-up under the business' time constraints.
This time is (almost) over! In companies, marketing teams are managing communications for most departments. At best case, marketers can review content, design it and ensure alignment with business and brand guidelines.
Small details can make the difference for customers. Color, logos, pictures and content are key references. Is your company involved in the digitalization of your marketing processes or are you ready for it? Distributed Marketing can assist you and your collaborators to communicate more efficiently.
In order to understand the problematics, let's step back for a classic scenario. We will start with the example of a "RANDOM Company". Let's imagine the RANDOM company with different departments: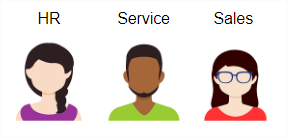 At certain times, all departments require support from a Marketing Team.
Examples:
Human Resources would like to send motivation emails to prospective candidates
Customer Service will reply to customer comments through email
Sales needs the ability to provide discount documentation for loyal customers
Currently, this means that each department will rely on the Marketing Team to prepare specific emails, leaving the workload on marketers to handle the following tasks:
Adding content (text, pictures, etc.)
Defining target audiences
Receiving approvals
Organizing campaign follow-up
.. and this for every department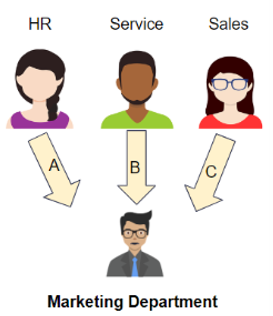 In the above structure, the Marketing Team becomes more overloaded, and unfortunately less productive. They are slowing down the process, while trying to action and prioritize their requests. And of course, every department requires their adaptation on priority.
At this stage, departments who cannot wait will most likely bypass the Marketing department,  and communicate directly with customers outside of the standard process.This could damage the company's branding with a substantial disillusion, and we're not even speaking about the consequences on data quality, GDPR breaches, Consent management or Opt-in/out management.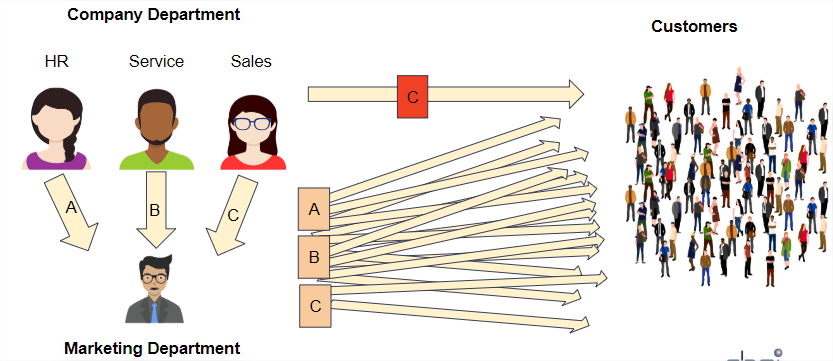 How can Salesforce assist in tackling this problem? Let's have a look at Distributed Marketing (DM).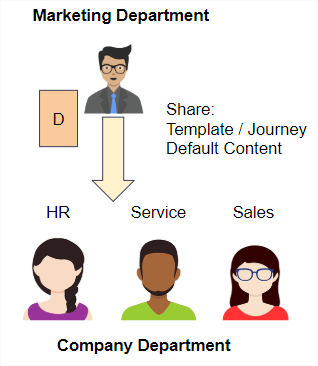 With DM, the Marketing Team can define several templates, layouts, content blocs, actions and recommendations. A default content journey can be set, with the ease of the MC journey builder module. The complete interaction sequence, like Email follow-up reminder after x days, SMS when email is not opened, can also be predefined in this Marketing Cloud journey.
Each department using Sales or Service Cloud will be able to select their audiences, add personalisation and decide when the email should be sent.
This will also give more availabilities to the Marketing Team for other activities and campaigns.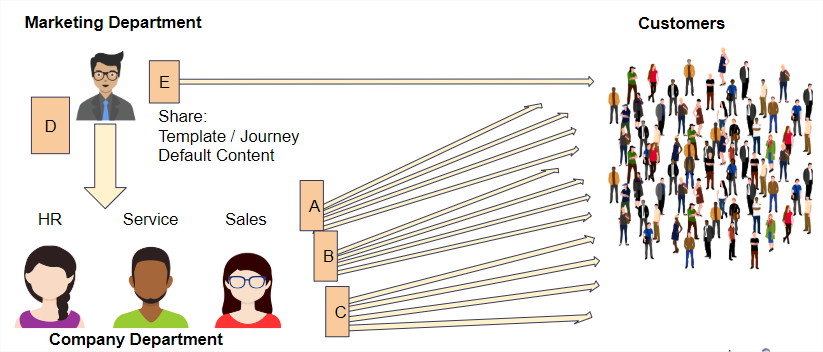 How does it work within the Salesforce platform

Salesforce & Marketing Cloud module used
Salesforce Sales Cloud or Service Cloud
Salesforce Campaign
Salesforce DM module
Salesforce Campaign Members
Marketing Cloud
Content builder
Journey builder
For the marketing department
Create templates with fixed and personalisable content block
Create a journey using these templates
Make them available for the Department.
For user department
Create or use an existing SFDC campaign
New campaign to be linked to an available journey
Add lead/contact to Campaign members
Open DM module,
Select Campaign members
Personalise predefined content block for this selection
Preview email
Approve sending
……..
To conclude, Salesforce proposes today an innovative approach to help marketers to improve processes and respect of guidelines.Combining Salesforce Campaign and DM allows non-marketers to view and connect Marketing Cloud Journey directly from Salesforce. The Email Content becomes accessible for non-marketers and adaptable for personalization.
Does this story sounds familiar? Feel free to contact us for more details, a demo or to discuss how this can be set up within your company and department. Our team will be happy to help, and all this of course without obligations.
Stop with 1 time mass emailing… Begin with controlled and personalised communication and take your contact in complete new customer experience.
More news about