---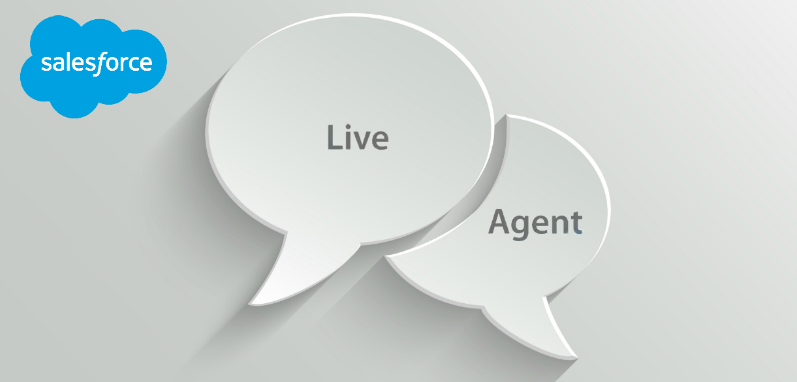 Salesforce "Live Agent" has significantly risen in usage and evolved during the past years. What used to be a mere website functionality has now become an essential part of the customer experience.
According to a survey amongst 2,000 consumers:
Live chat is being used by 31% of the respondents nowadays.
73% of the respondents rated their satisfaction with a live chat channel high.
67% of the respondents find live chat easy to use.
Also according to Forbes, an important trend for 2016 are omni channels which instant chat belongs to. Today it's an essential tool you should consider using on your company website. What is Salesforce "Live Agent"  and why is chat becoming a more popular channel to interact with your online customers and prospects?
What is "Live Agent"?
Salesforce Live Agent allows your company to connect with your visitors, customers and prospects to your website in real time via a web-based, text-only live chat. You can deliver answers faster, whether related to services or sales. Customers can seamlessly chat with an agent to talk through issues and get them resolved in real time.
Why "Live Agent" ?
Here are six reasons why "Live Agent" is an essential tool.
"Live Agent" is convenient for customers and prospects: Customers are responding positively to chat on websites. It provides them with immediate access to help. Response is faster than with a call center and customers can easily multitask while waiting. For many customers chat is less stressful than talking to a stranger on the phone.
Chat is more efficient than a call center: Drawback of call centers is that each agent can only deal with 1 customer at the time. A live chat agent can potentially deal with several customers at once. Since it's entirely text-based, you keep a transcript of every chat that can be analysed later on. You can associate a transcript with a Salesforce case or contact in order to have a 360° view.
Chat cuts down on expenses: Live chat can reduce overall call center costs by lowering average interaction costs. The fact that agents can handle multiple chats simultaneously reduces the need to hire more agents.
Chat increases sales: Live chat on a website can lead to improved sales numbers. When the customer has a question during his purchase he can get instant feedback through the live chat. This increases the chance of an actual purchase and gives the possibility for upselling products.
Chat drives services: By forwarding a specific chat to an agent with specific skills, you can increase the customer satisfaction. Chats can also be escalated to experts in a transparent way for the customer. A service chat can automatically create a service case with associated chat transcript.
Chat builds trust: By making it available as a support option, you're helping to build trust. It gives you the option of longer service hours, even during week-ends when call centers are closed. By connecting the agents to Salesforce Knowledge Base your customer will conclude that you really know "what you're talking about".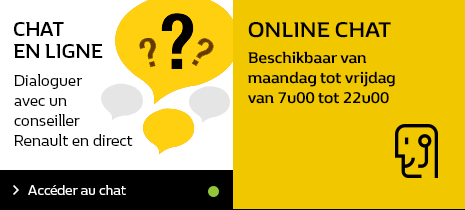 Tips & tricks
Installing "Live Agent" is not just a matter of technology. You should be aware of the following factors:
Training : your agents team should be trained and be extremely knowledgeable.
Be human : the whole point of having chat is to provide warm & human help. Don't use automatic robotic greetings.
Agents with sales experience : although chat is often used for service purposes, don't forget the sales potential of chat. Therefore use skilled agents with both service & sales knowledge.
Language : especially in Belgium, try to redirect a chat to the agent with the appropriate language skills.
Salesforce "Live Agent" goodies
Here is a list of a few goodies since "Live Agent" has been launched by Salesforce.
Chat transfer : you can transfer chats to other agents that are more qualified to answer a particular inquiry.
Multi-lingual support : you have the possibility to configure localized greeting messages per chat button and per agent. There is also the possibility to view the customer's language of the incoming chat session.
Proactive "Nudging" feature : if a customer stays for a certain period of time on a specific website page, a pop-up will propose him a chat session in order to guide him.
Pre-chat forms : you can request visitor details upfront and match it with your existing customer base.
Knowledge support : integrated knowledge to train your agents and provide customers with sef-assist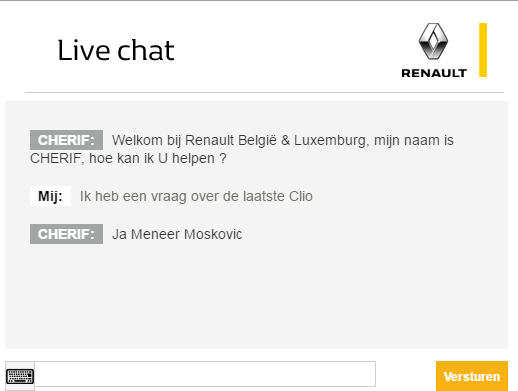 Live Agent implementation at Renault
PwC has helped Renault Belgium to implement "Live Chat" on their Renault & Dacia websites.
According to Fabrice De-Greef, Tool Manager CTS Benelux at Renault: "The means of communication are changing. A modern company needs to be up-to-date in order to meet the expectations of customers and offer them the services they deserve: "Live Agent" functionality has allowed us to offer the chat on our Renault & Dacia sites. The application is particularly accessible and intuitive for both customers and users. We have noticed an increase of  40% of our contact requests following the introduction of this communication channel. This allows us also to increase the potential leads that could bring us new extra sales of vehicles".
"Live Agent" is a solution which is part of the Salesforce Service Cloud.
You can always contact us if you are interested as well, and we can assist you in the implementation of this functionality.
This article was written by Henry Moskovic.
More news about