---
What is the SME Growth subsidy?
With the SME growth subsidy, the Flemish government supports SMEs seeking to embark, or continue their strategic growth trajectory. The growth subsidy covers strategic advice from an external service provider or the recruitment of a strategic profile that will help SMEs in their growth. The applicant's growthpath must be in line with one of four important social themes. These themes are:
Digitalisation;

Internationalisation;

Circular and sustainable business;

Innovation.
As of 2021, the SME growth subsidy is organized based on periodic, competitive and thematic calls. This principle continues in 2022, with the calls having been announced recently. The project calls are planned for March, July and November. As shown in the table below, we distill four themes per call.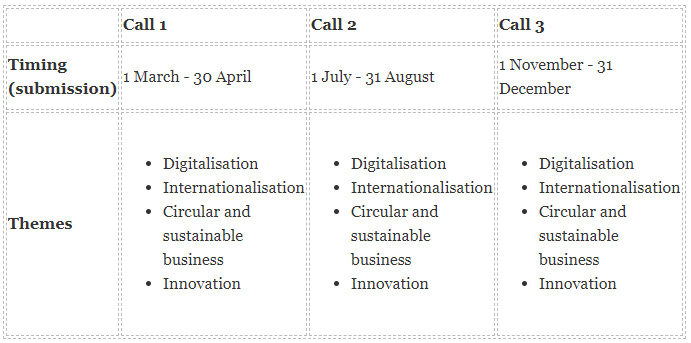 Who can benefit from the SME Growth subsidy?
SMEs, established in Flanders, that have not benefited from an SME growth subsidy or grant relating to a digital transformation project in the last 36 months..
What is the potential benefit?
Small and medium-sized companies can obtain a grant of up to

€50,000

per growth trajectory;

A maximum of €25,000 for advice from one or more external service providers;

A maximum of €25,000 for the recruitment of a single strategic profile;
Eligible projects have a minimal budget of €20.000 (excl. VAT) and can obtain a subsidy for a maximum of 50% of consultancy or wage costs. 
Get in touch with your local PwC contact person to find out more on this opportunity, and on how we can assist you.
More news about